This is my second sympathy cards this month for the challenge, and I wanted to play with the new Water Reactive Inks from Hero Arts so I will walk you through the technique for this card.
I wanted to make this one very soft and light feeling so I arranged all of the "Little Florals" stamps from the Hero Arts Vault on some white Tim Holtz watercolor paper and embossed them with white embossing powder as well. leaving room for the sentiment in the bottom third. After the embossing had cooled I pressed some ink directly from the pad onto my glass media mat and very roughly started picking up the colors and painted with the rule of three's and a visual triangle around my sentiment in mind.
I used the new reactive inks, in  Taffy, Lemon Drop, Creamsicle, Blue Rasberry, Splash and Grape Slush, sort of painting into the areas for specific flowers but not being precise at all.  This is very easy and simple and will turn out great as long as you keep the orange, red and green separate, the rest will mix beautifully. Do not worry about doing this perfectly it is supposed to have an artistic layered look, ethereal and floaty. Definitely not within the lines!
When my piece had dried I colored in all of the flowers with a Versamark pen and then added clear embossing powder over the top.  After that was smooth and melted and had cooled I took the white Sea Salt Ink and pressed it on the card and dragged it all over, I wanted to damp down the background to almost white and get it to look almost painted. I then took a baby wipe and cleaned off all of the flowers where the clear embossing powder was and the brighter watercolor revealed itself.
This is a great technique called Joseph's Coat, you are simply masking off the color underneath with clear embossing powder and then re-inking the background, so that there is a difference between what is embossed and not. This can be very dramatic with a dark ink over light or bright colors or soft and sweet with a white or lightened background with softer colors showing through as it is here.
After the panel had dried I ran it through my die-cutting machine to flatten it and added some craft foam to the back so it would just be slightly raised of the card.  I heat embossed the Thinking of you sentiment from the  "Messages with a Flourish" set on a piece of light blue vellum that matched the inky watercoloring in silver embossing powder. I wrapped this around the panel to hold it in place with no adhesive and then adhered the panel to a card base of Hero Arts Wood Grain cardstock from one of the MMH Kits.
I hope you like this technique and give it a try. Don't forget to enter your card in the June challenge here! There are two gift cards to Hero Arts as prizes 🙂
Supplies Used: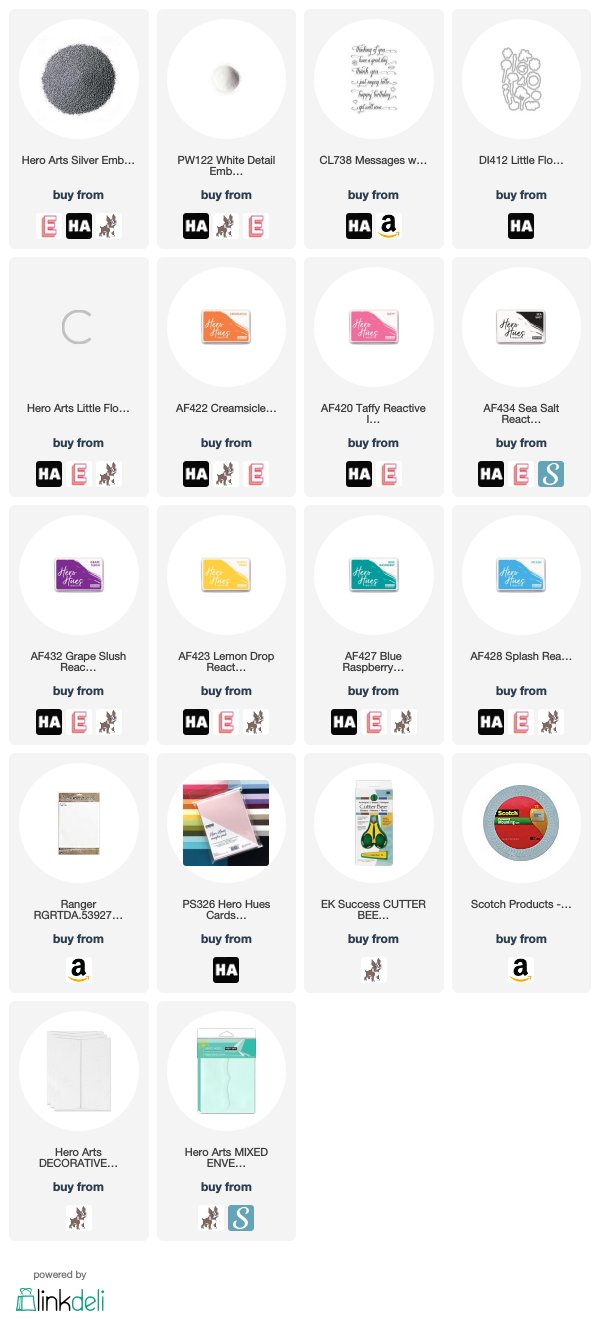 I participate in the affiliate program for Hero Arts, Ellen Hutson, and Simon Says Stamp. It means I get a small commission at no additional cost to you when products are purchased through links I share here (when you click on the link it will take you directly to the product being promoted).
Please note I will never share or even review a product that I would not personally recommend or that I do not personally like and use. Thank you for your support of this blog.